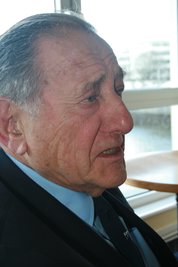 It is with great sadness in our hearts that we have just learnt of the passing of Joe Briscoe. Joe was a founder member, first Commodore, leading light and driving force behind the DMYC. Without Joe, and those he gathered around him, there is no doubt that there would be no DMYC today. His sage advice, good humour and great stories will be greatly missed.
As a mark of our deep respect the club flags are being flown at half mast.
Funeral arrangements will be notified as soon as we know them.
Best regards,
Kevin Burke, Commodore