The DMYC Frostbite Series started in 1969, and continued every winter until 2020, when we had to take a break due to the pandemic. We are back in action in 2021-22, and delighted to have Viking Marine as a sponsor.

This is dinghy racing for those sailors who want to race all year round, no matter what the temperature. We try to hold racing on most Sundays from November to March. You can find news and updates here, or on our Facebook page.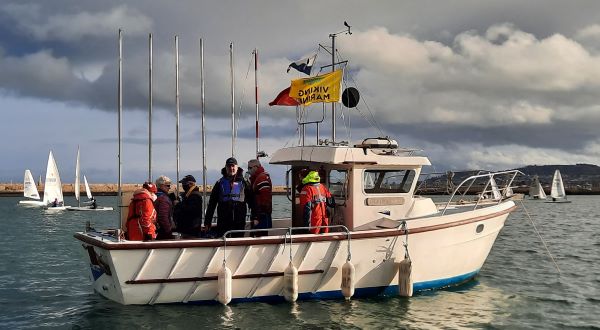 The Club is very grateful to all the volunteers who help run this event. It is a cold, and sometimes wet, job out in the RIBs and on Hawaiian Goose (our committee boat), and the only "payment" is a bowl of soup (made by more volunteers).
Notice of Race
Racing is scheduled on Sundays, with the first start at 14:00. We normally have two races each day, if the weather allows, but we might have three races on a really nice day! The racing area is restricted to Dun Laoghaire harbour this winter, as an extra safety measure. For details, see the Notice of Race.
Series 1: 7 November to 19 December 2021
Series 2: 2 January to 27 March 2022
Entries are closed now, as we have reached our limit of 120 boats.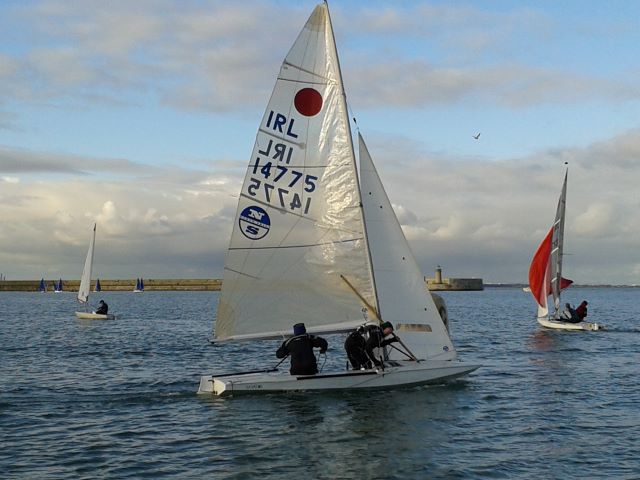 Sailing Instructions
The courses may be triangular (signalled by the letter T), windward-leeward (W) or a mix of the two (X). There are three starts, at 3-minute intervals. The finish is usually in the same place as the start, and boats are not allowed to cross the finish line if they are not finishing. For details, see the Sailing Instructions.
First start: PY class – all boats except Lasers
Second start: Laser full rig and Laser 4.7 classes (now called ILCA 7 and ILCA 4)
Third start: Laser radial (now called ILCA 6)
Results
See the results page.