By any reasonable logic it should not have been possible to sail in Dun Laoghaire today Sunday for the final race in part one of the Frostbite Series. Wind Guru was predicting gusts of forty knots and there was nothing in the morning conditions to suggest that they were wrong. It was a beautiful fresh morning but the gusts were indeed savage, the kind capable of upending dinghies in the boat park, never mind afloat. By midday however all had changed and it was looking not just very sailable but warm and pleasant too.
There was a scramble in several quarters for sailing bags and a rush to the clubs but many regular racers had read the earlier predictions and taken on Pre-Christmas duties instead. So it was that four Fireballs lined up in the harbour for the final dance. It was still very gusty however and the conditions were tricky with a capsize to windward the greater danger as pressure was liable to vanish as quickly as it arrived. This saw Frank Miller and Grattan Donnelly take a pre-start swim and was enough to persuade Cariosa Power/Marie Barry head for shore.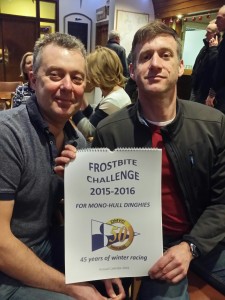 Two of the three boats which started headed left up the first beat but Miller/Donnelly having won the start at the favoured pin end tacked clear of the other two and took a hitch in. This turned out to be a big mistake as the lift to the mark across the breakwater entrance was not enough to make up for the reduced pressure in that corner of the harbour.  By the windward Noel Butler/Stephen Oram had a commanding lead on Miller/Donnelly who were just ahead of Louise McKenna/Hermine O'Keeffe.
There followed a chasing game around the frostbite version of a trapezoid course. Miller/Donnelly gained marginally on Butler/Oram on the second beat and McKenna/O'Keeffe closed to within a boat length of Miller/Donnelly but over the course of the 5 laps the leaders pulled away again and the middle boat pulled well clear of the pursuit team thanks mainly to one very windy reach under kite.
At the DMYC prize-giving event organiser Oliver Prouvier reminded sailors that with the harbour sheltered from the South West sailing was often possible even in extreme conditions. Winners of part one of the series were Butler/Oram, with the Clancy Brothers taking second and Neil Colin/Margaret Casey third. McKenna/O'Keeffe took the mug for the day's racing. The main prizes were very attractive bespoke calendars featuring photography of the event by Bob Hobby, our heroic double-jobber who acts as rescue driver and official photographer. The series resumes for more adventures on Sunday 10th of January. With at least one extra Fireball threatening to join the fray the new year is already looking very positive for the fleet.
— Frank Miller, Fireball fleet